HOW WE DO IT
Smooth & Hassle-free
Because the vehicle repair process is something we handle everyday, we make all arrangements to help facilitate the claim and repair process. Our commitment is to make the repair process smooth and hassle-free. So that you don't have to deal with the additional stresses of making arrangements, we:
Contact necessary insurance agents or claims departments
Electronically send estimates and digital pictures
Make car rental arrangements
Pick up and deliver vehicles in Bloomington-Normal
The Process
Estimate is prepared & completion date given
Coordination with owner and insurance company
Owner authorizes repairs
Repair work is scheduled & parts are ordered
Vehicle is pre-washed and vehicle is assigned for repairs
Structural & body repairs are performed
Vehicle is repainted and inspected
Reassembly process begins
Interior & exterior detail is completed
Final inspection is done
Vehicle is ready for pick-up & delivery
We are Dedicated to Making Things Easy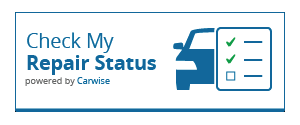 All we need at Mike's Collision Center are the keys and a contact number. Because we understand that you want to know the status of your vehicle and its repair, our staff follows a pre-determined callback schedule throughout the repair process. This helps keep you (the customer) informed. In fact, you can receive updates via text message and check the status of your vehicle at any time using Carwise.